New MHP Titles
Free Download
The fates of three women. The fates of two peoples. The fates of one planet. Read the first four chapters of Leslie Ann Moore's epic tale of the descendants of Old Earth, A Tangle of Fates.
From The MHP Team
2014 World Science Fiction Convention Loncon3 Hosts Award-Winning Author Leslie Ann Moore in London, Aug 15-16

Muse Harbor Publishing's Science Fiction/Fantasy Author Leslie Ann Moore to speak to fans and promote her upcoming "A Tangle of Fates" trilogy novel at Loncon3 in London, August 15-16, 2014, home of the famed Hugo Awards. Moore is the author of the romantic fantasy, "Griffin's Daughter" trilogy, winner of the acclaimed IBPA Benjamin Franklin Award for Best First Book in Fiction. Read More...
Humorous Fatherhood Book "Everything Ever After: Confessions of a Family Man" by Popular Columnist Launches Tour June 14
JUNE 14, 2014
Muse Harbor Publishing launches the book tour for "Everything Ever After: Confessions of a Family Man", based on Michael Picarella's Southern CA-based syndicated family columns at the Conejo Valley Botanic Garden's Kids' Adventure Garden, at 400 West Gainsborough in Thousand Oaks, CA on 6/14 from 3- 6 p.m. and on July 8, 2014 at Mrs. Figs' Bookworm at 93 East Daily Drive in Camarillo from 5-7 p.m. | Read More...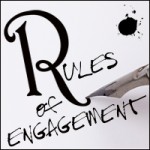 What's your intention?
AUGUST 23, 2014
Each chapter (or individual scene) that you write must have a specific intention. Your goal is to propel the story rationally forward in terms of: Scene-setting, character-setting and/or plot development. (Refer to Rule #9.) Each scene has, to some degree, a beginning, a middle and a conclusion—and if not a conclusion, a consequence. An established predicament. Each scene moves the reader from here to there with both precision and passion. | Read More...