"I'd like to claim that I planned to make a book all along, but that's not the truth. The truth is that I was in a terrible state of mind, and had been so for quite some time…perhaps years. All I could hang on to for those 90 days — or 107 days, if you count the days when I just couldn't get it together — was making that day's image. I'm better now, but this is what it was like to be me, then."
Ian Wood
words on torn paper: Specificity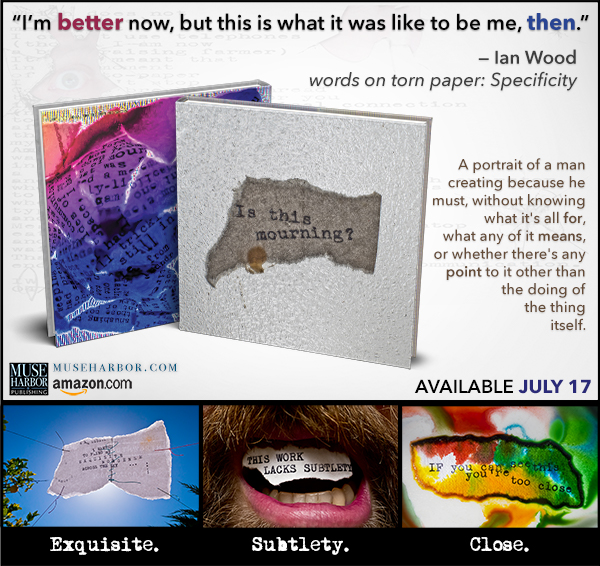 words on torn paper: Specificity began as an act of desperation, expressed by a simple idea: "words on torn paper: just that, once a day." Feeling stagnant in all the ways that matter, writer and photographer Ian Wood clung to the hope that all it takes to render a momentary decrease in local entropy is "…one thing, just one small thing, that has never existed before." He resolved to create that one small thing, every day, for as long as it felt necessary to do so.
This book is the result of that effort: 90 images, each one planned, constructed, and photographed over the course of a single day, and accompanied by a descriptive object card listing all of the materials used to create each image — including the interior state of the photographer.
Funny, dark, and poignant, words on torn paper: Specificity describes a state of mind familiar to anyone engaged in creative work, and offers a portrait of a man creating because he must, without knowing what it's all for, what any of it means, or whether there's any point to it other than the doing of the thing itself.
About the Author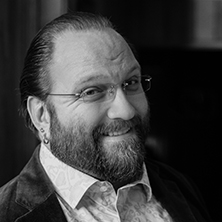 Ian Wood was born in Santa Barbara, California. He left at the age of three for the East Coast, then returned 32 years later on a recumbent tricycle, after a four-month cross-country journey. Though a writer of fiction and non-fiction, he recently lost the desire to string more than a few sentences together, and thus his first book consists primarily of photographs of decontextualized writing fragments. Discover more about the project at wordsontornpaper.com.