How do our beliefs contaminate our opinions?
Why are names like Stephen Hawking and Albert Einstein so revered across the globe whilst other achievers are not? Why do some scientists rival film stars in their celebrity, adored and protected by a fiercely loyal fan base? In Stephen Hawking Smoked My Socks, Hilton Ratcliffe seeks out the answers to those questions, and discovers that their celebrity status has little to do with science.
This book is about the power and influence of belief in creating our opinions, and the manifestations of polarizing conflict between belief and instinct in the development of our mindset. Ratcliffe does not write not write about his own scientific theories, or promote his personal models of the Universe. He is not proposing an alternative model of anything. Stephen Hawking Smoked My Socks humbly exposes the insidious control exercised by the scientific elite (of which he was once part), and offers instead a method of inquiry that favors objectivity in all our endeavors to illuminate truth.
Against the backdrop of his own worldview
as a philosophical astrophysicist, Hilton Ratcliffe:
Describes the empirical scientific method, exposing its inherent weaknesses and how its theoretical conclusions lead to the so-called standard models.
Investigates the nature of belief and the influence of dogma.
Illuminate the synergy between skepticism and pragmatism.
Drills down into defensive social groups, including sects, gangs, cults, conspiracies, and the scientific elite.
Reveals the territorial imperative as the primary instinctual driver of human behavior; and finally,
Offers a solution to all these dilemmas—an investigative method called scientific pragmatism.
About the Author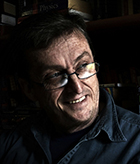 South African-born astrophysicist Hilton Ratcliffe has garnered respect amongst the global scientific community for his classical approach to space science: His belief system is based upon observation rather than esoteric theory, a reversal of the standard approach to cosmology.
His first book, The Virtue of Heresy – Confessions of a Dissident Astronomer, is an international hit on its third edition. A measure of the esteem in which he is held is the invitation he received from iconic British astronomer Sir Patrick Moore, to collaborate on a second book, The Static Universe. His third book, Steven Hawking Smoked My Socks, will be released by U.S.-based Muse Harbor Publishing in November of 2014.
Ratcliffe is a Durban-based physicist, mathematician, and astronomer. He is a member of both the Astronomical Society of Southern Africa (ASSA) and the Astronomical Society of the Pacific. He opposes the stranglehold that Big Bang theory has on astronomical research and funding, and to this end became a founding member of the Alternative Cosmology Group (an association of some 700 leading scientists from all corners of the globe), which conducted its inaugural international conference in Portugal in 2005. 

He was a member of the Conference Organising Committee for the Second Crisis in Cosmology Conference (CCC2) held in Port Angeles, Washington, in 2008, where he was also an invited speaker. Ratcliffe has been frequently interviewed in the press, on television and on radio, and has also authored a number of papers for scientific journals.
Ratcliffe writes a monthly astrophysical column for Ndaba, newsletter of the Durban Centre of the Astronomical Society of Southern Africa, and edits the online newsletter of the Alternative Cosmology Group (ACG). 

He is best known in formal science as co-discoverer, together with eminent nuclear chemist Oliver Manuel and solar physicist Michael Mozina, of the CNO nuclear fusion cycle on the surface of the Sun, some 65 years after it was first predicted. In his capacity as a Fellow of the (British) Institute of Physics, he involves himself in addressing the decline in student interest in physical sciences at both high school and university level, and particularly likes to encourage the reading of books.