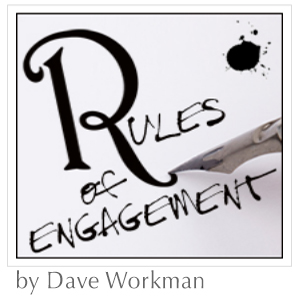 A notebook for fiction writers and aspiring novelists. One editor's perspective.
---
Story vs. Plot. What's the dif?
(Also: How to resolve the
"my story's-too-short" dilemma)
I'm aware of confusion among many newbie novelists concerning the difference(s) between plotting and storytelling. So what exactly is a plot? What exactly is a story? Are plotting and storytelling identical? While the two terms might appear synonymous upon first glance—they are not.
A fictional plot contains a series or sequence of events, circumstances or the collective steps of a journey (physical, emotional, spiritual) that typically begins with an inciting incident and unravel in linear fashion—from your story's Once Upon A Time… until the conclusive The End.
A story is a fusion of the three primary components necessary to create a complete, believable fictional reality. A story must include: 1. Plot momentum, as well as; 2. Character development, and; 3. Proper (meaning sufficient) scene-setting. A good story will seamlessly blend all three components — and will comprise little else. (See Simple, But Exciting.)
Character development should be self-explanatory. That is, the deeper, more fully formed and complex your characters, the truer-to-life those paper-people will become to readers. Insufficient (wooden, superficial, mundane, re-active*) characters lack the charm, attitude, unique individualism and compassion (for a protagonist) or else lack sufficient heartless, conniving and/or downright evil (your antagonist) qualities. Pro-active characters will skillfully, creatively and intuitively create or solve problems — and proactive protagonists won't simply and repeatedly react to whatever obstacles a writer dumps in their way.
Proper scene-setting is more than simply visualizing a bare-bones environment for readers. Scene-setting means providing characters with proper stage-setting, and the subtle visualization of all necessary elements in a scene. Scene-setting also allows readers to occasionally stop and smell the flowers (for no other reason than stopping to smell the flowers). With each new scene or chapter you begin, it's imperative to update (if necessary) the scene's new whereabouts, any new time frame—has darkness fallen? Have days passed? You're even noting any mood or emotional shifts in your characters. Your job is to note any relevant changes and make the appropriate updates.
Scene-setting also means providing readers with necessary sounds, smells, and attitudes… so don't skimp on using a multitude of senses. The aroma of a sizzling steak or the screech of a hungry osprey can be as emotionally relevant to readers as defining a quaint village, a crumbling hillside castle, an angry sea or a cadmium colored sunset. In terms of a timeline, do you begin your new scene on a new day (or night), the following day, next Tuesday, or 2027? So if your last chapter ends around noon, and 10 or 12 pages into your new chapter, readers discover street lamps aglow, you'd have better revealed to us right up front that night has indeed fallen.
Or, to put it very simply:
PLOT: Is what happens.
STORY: Is what happens to whom.
Need more prompting? Okay, so let's say you want to write a story about a ship sinking. Let's call this tub the R.M.S. Titanic. A rough outline of your plot might be that of an unsinkable ocean liner speeding across the Atlantic, hitting an iceberg and gradually descending into the icy depths of history. Good plot (and certainly the tragedy's been written enough). The choreography of the ship's sinking — the unseen iceberg, the waterproof bulkheads failing, the boilers blowing up, the eventual founding and the ship ultimately splitting in two — that all makes for a riveting plot. But where are the people? How do they cope? Without a host of characters integrated into your story, you've basically written a book about buoyancy, or the lack thereof.
But put 2240 souls aboard that sinking ship — and perhaps focus on a dozen of those passengers, each with a different, dramatic, chaotic story to tell — now you've turned that very basic plot idea into a very spine-tingly, emotional story. Who's the hero? Who's the coward? Who survives? Who doesn't? Who watches their loved ones go down with the ship? Again, a novel isn't about what happens, it's about what happens to whom.
Finding yourself with a too-short page count?
Newer writers, working on early drafts, tend to work primarily on plot-development first and foremost—which is perfectly okay. When you're in draft mode, ain't nothing wrong with defining your plot from beginning to end before you begin to embellish and elaborate. After all, you want to know where you're going and how to get there. But once a writer's sure of that destination, it's all about plumping up character personalities and motivations, and grounding readers in the here and now.
Typically (and this is a generic observation… exceptions always exist) for every 100 pages of plot momentum, one can easily write 100 pages of character development as well, some of which may directly or indirectly influence your plot as well, but can also add back-stories or side-stories or include secondary characters who fail at their tasks (or intentionally thwart your MCs…who then have to try again). And a writer can easily add 50-100 pages of scene-setting, exploring/explaining realms, adding visual excitement to scenes. Heck, some writers (and George R.R. Martin comes to mind) can write a dozen pages simply visualizing a feast, setting the table and choreographing a scene before the action even begins.
So if you find your characters moving mechanically through the book, mindlessly following the plot—realize that there's room for all sorts of embellishment and unexpected twists and nuance. How many times have you seen a character fail to start a car, when time is of the essence? Those few moments of frustration aren't directly plot-related, they're intentional interludes meant to add tension and drama. You're upping the emotional ante and giving readers additional reasons to turn the page.
Should you decide to throw in a few extra characters to foil your MC's efforts, you can add dozens or hundreds of pages to a manuscript that don't directly influence/effect the plot, but that add to the overall thrill ride. Not to mention that you're creating characters far more exciting (clever or scary, unlucky or frivolous or devious…or whatever) for readers to discover.
.
---
* What's a reactive character? That's a character who's always (or most often) responsive to an unfolding plot. Reactive characters typically resolve obstacles through luck or <gasp!> coincidence. (More than one or two discreetly placed coincidences and your novel may begin to feel fake or unbelievable.)
A reactive character wanders from scene to scene, and has little need for personal growth (See: Character Arcs), rational deduction, fortitude or tenacity. Sure, protagonists often initially react to initial drama or danger (again, your novel's inciting incident) and occasionally to various situations beyond their control, but once a protagonist is motivated, it's up to him/her to actively confront said drama or danger, to make important decisions and take control of the situation, no matter the risk.
For instance, your disgruntled PI can't simply solve a crime by sheer luck alone, blundering into clues and having witnesses suddenly pop out of the woodwork, pointing fingers. Your gumshoe must make logical, skillful pro-active choices to solve the case. Or maybe your MC wins the lottery. (Somebody has to. Why not her?) But a character who's flat broke, finds a dollar bill on the sidewalk and then spends it to win a billion dollar lottery, a day before her eviction, divorce and potential suicide? That's borderline coincidental. So is the cop who defuses a bomb with 3 seconds remaining on the timer. (How many times have you seen that one? It's not only coincidental, it's pretty much a cliché.) Your protagonist(s) must actively rely on their cunning and knowledge to survive (or fall in love, or solve a dilemma or win the big game, or whatever). Sure, protagonists must be occasionally lucky… but too damn lucky? Unless you have an ironclad reason — a literary equivalent of a last-second Hail Mary Pass that wins the Superbowl — that's pretty much taboo.
---





by