"Dave Workman's extraordinary writing lends wings to his vibrant and boundless imagination. With Surreality he unleashes a trio of wonders that will live in your memory like cherished friends."
— Stephen T. Vessels
Thriller Award nominated author
of The Door of Tireless Pursuit
Welcome to Surreality, where sanity
is not always an option.
Three novellas that test the bounds of reality.

The Hole: Consider an unassuming, middle-aged California couple who find themselves confronted by an unfathomable anomaly beneath their feet. What happens when the hole you've dug continues to expand long after you've dropped the shovel and run?
The Tattoo: Ponder a rowdy sailor's superstitious mind, unable to cope with horrific loss. How to survive those mysterious forces that may or may not be real?
The Eternal: Question a seemingly rational fellow who declares himself an
immortal soul, strolling through centuries as easily as one might pass through the moments of an endless summer's day. Is he an anomaly, a god, or simply crazy?
"Dave Workman's writing is like Joan Aiken crossed with Steven King:
Alternately wonderful and horrific, shot though with golden threads
of humor, kindness, hope, and love."
— Chris Wozney, The Nameless Zine
About the Author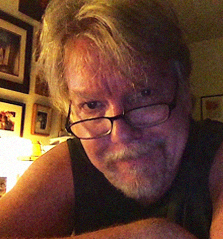 Dave Workman served many years as a Los Angeles-based film critic. When not writing fiction he currently functions as a graphic designer and book editor. Dave's blog, Rules of Engagement—words of encouragement for aspiring novelists—can be found at www.MuseHarbor.com. You can also find Dave's two crime thrillers, On The Rocks and On The Edge on Amazon. Like A California Dream, a novel about surviving the exquisite inanity of Hollywood, is seeking a 2023 release.
Surreality is Dave's first novella collection. His lives in Northern California with his wife, author Eileen Workman.