If a disgruntled bodyguard and an incompetent hitman go into business with a smart hooker, who gets screwed?
Elvis Zapata is an unappreciated matón who dreams of becoming a bartender. Dwight "The Kid" Manetti is a wannabe killer with a surprisingly sensitive side. And Angie B. hopes to drop a con on mob underboss Duke Capriccio. When the trio "accidentally" inherits a drug lord's dark kingdom, dirty narcs, vengeful street dealers and a tarot-reading Mafia capo stand in line for a particularly nasty revenge in a wild and wickedly funny romp through the mean streets—and meaner luxury estates—of L.A.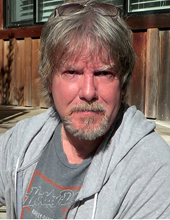 About the author
Dave Workman and his wife—author Eileen Workman—live in Northern California with an old dog and a nefarious cat. He spends his time pondering, writing, cycling, walking the dog and avoiding the cat. On The Rocks is his first novel. On The Edge followed. His metaphysical novella collection, Surreality, was released in 2021. His newest novel, Like A California Dream, is scheduled for a 2024 release.