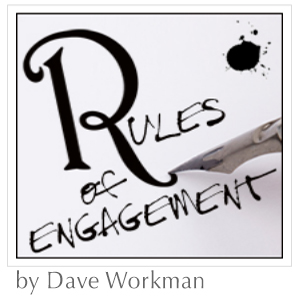 A notebook for fiction writers and aspiring novelists. One editor's perspective.
• Next post • Previous post • Index

---
Writing that first line.
(Also: Outlining Can Help.)
One's first line(s) need not be plot specific, nor allude to any sort of inciting incident. However, the opening of any story should be, must be, profound. Poignant. Riveting. Either in-your-face riveting or very subtly so. Teasing. Provocative. Your opening's sole intent is to immediately immerse readers in whatever impending story you're about to present. Personally, I often fool around with my opening, tweaking, nudging or even re-writing that damn sentence over and over, even after I've finished several drafts. And yet, somehow, I eventually find the perfect (for me) expression.
How important is your first line? Important enough to be Rule #2: Make your story's first line enticing enough to immediately hook readers. (The only line as important is your story's last line. So the same rule apply.)
I've gathered 25 fictional first lines (and corresponding 2nd lines, if appropriate) from previously published authors. I believe these openers grab readers exceptionally well. Most of these books were or are hugely successful, but widely vary in substance, tonality and mood. These intros provide the necessary allure (whether wit, pathos, humor, suspense or a teasing overview) to read on. Some will hint of an impending inciting incident. Others are far more opaque or elusive. So, in chronological order:
"It is a truth universally acknowledged that a single man in possession of a good fortune must be in want of a wife." — Pride and Prejudice. Jane Austen. (1813)
"It was a feature peculiar to the colonial wars of North America, that the toils and dangers of the wilderness were to be encountered, before the adverse hosts could meet." — The Last of the Mohicans. James Fenimore Cooper. (1826)
Charles Dickens' 1859 classic, A Tale of Two Cities, is already (in)famous for its breathless prose, and while the book's familiar first line would be torn apart by today's editors (or at least separated into several distinct sentences), Dickens' emotional perception of Victorian-era London helped launch the book into Wikipedia's Top 5 Best-Selling Novels of All Time list.
. . . . It was the best of times, it was the worst of times, it was the age of wisdom, it was the age of foolishness, it was the epoch of belief, it was the epoch of incredulity, it was the season of Light, it was the season of Darkness, it was the spring of hope, it was the winter of despair, we had everything before us, we had nothing before us, we were all going direct to Heaven, we were all going direct the other way – in short, the period was so far like the present period, that some of its noisiest authorities insisted on its being received, for good or for evil, in the superlative degree of comparison only.
In War of the Worlds, H. G. Wells' opener is rather amazing, given the book's pub date. Orwell's first line foreshadows his entire plot, and even hints at the book's brilliant conclusion.
. . . .No one would have believed in the last years of the nineteenth century that this world was being watched keenly and closely by intelligences greater than man's and yet as mortal as his own; that as men busied themselves about their various concerns they were scrutinised and studied, perhaps almost as narrowly as a man with a microscope might scrutinise the transient creatures that swarm and multiply in a drop of water. — War of the Worlds. H. G. Wells. (1898)
In my younger and more vulnerable years my father gave me some advice that I've been turning over in my mind ever since. — The Great Gatsby. F. Scott Fitzgerald. (1925)
Scarlett O'Hara was not beautiful, but men seldom realized it when caught by her charm, as the Tarletin twins were. — Gone With The Wind. Margaret Mitchell. (1936)
In a hole in the ground, there lived a hobbit. — The Hobbit. J.R.R. Tolkien. (1937)
In the corner of a first class smoking carriage, Mr. Justice Wargrave, lately retired from the bench, puffed at a cigar and ran an interested eye through the political news in The Times. — And Then There Were None. Agatha Christie. (1939)
. . . . An interesting aside, the British version of Christie's book was first titled Ten Little N – – – – – – . (Yup, the infamous N-word; and the title of a familiar children's nursery rhyme at the time. The rhyme's plot factored prominently into Christie's story.) In America, the title was changed to Ten Little Indians and ultimately became known as And Then There Were None. The book remains one of the best-sellers of all time.
It was a bright, cold day in April, and the clocks were striking thirteen. 1984. George Orwell. (1948).
If you really want to hear about it, the first thing you'll probably want to know is where I was born, and what my lousy childhood was like, and how my parents were occupied and all before they had me, and all that David Copperfield kind of crap, but I don't feel like going into it, if you want to know the truth. — The Catcher in the Rye, J. D. Salinger (1951)
It was a pleasure to burn. — Fahrenheit 451. Ray Bradbury. (1953)
In those days cheap apartments were almost impossible to find in Manhattan, so I had to move to Brooklyn. This was in 1947, and one of the pleasant features of that summer which I so vividly remember was the weather, which was sunny and mild, flower-fragrant, almost as if the days had been arrested in a seemingly perpetual springtime. — Sophie's Choice. William Styron. (1960)
The Island of Gont, a single mountain that lifts its peak a mile above the storm-racked Northeast Sea, is a land famous for wizards. — The Wizard of Earthsea. Ursula K. Le Guin. (1968)
All this happened, more or less. The war parts, anyway, are pretty much true. — Slaughterhouse-Five. Kurt Vonnegut. (1969)
When I finally caught up with Abraham Trahearne, he was drinking beer with an alcoholic bulldog named Fireball Roberts in a ramshackle joint just outside of Sonoma, California, drinking the heart right out of a fine spring afternoon. — The Last Good Kiss. James Crumley. (1978)
The sky above the port was the color of television, tuned to a dead channel. — Neuromancer. William Gibson. (1984) This is the novel, btw, that coined the term Cyberspace.
The night Vincent was shot he saw it coming. — Glitz. Elmore Leonard. (1985)
Maybe I shouldn't have given the guy who pumped my stomach my phone number, but who cares? My life is over anyway. — Postcards from the Edge. Carrie Fischer. (1987)
I have been afraid of putting air in a tire ever since I saw a tractor tire blow up and throw Newt Hardbine's father over the top of the Standard Oil sign. — The Bean Trees. Barbara Kingsolver. (1988)
Mr. and Mrs. Dursley, of number four Privet Drive, were proud to say that they were perfectly normal, thank you very much. — Harry Potter and the Sorcerers Stone. J.K. Rowling. (1997)
They shoot the white girl first. With the others, they take their time. — Paradise. Toni Morrison. (1998)
The creature watched and waited. — The Past is Never. Tiffany Quay Tyson (2006)
Micky and the naked blonde are giggling in the Jacuzzi. — On The Rocks. Me! Me! This one's mine! (2012) …because I'm not above a little self-promotion (and I really like the line!).
I was born a colored man and don't you forget it. But I lived as a colored woman for seventeen years. — The Good Lord Bird. James McBride. (2017)
We should have known the end was near. How could we not have known? — How Beautiful We Were. Imbolo Mbue. (2021)
Where to Start:
What Not to Worry About (Yet)
So begin… but do so with forethought and with a profound sense of purpose, of teasing or mystifying or exciting the reader. I'm aware that staring at a blank page, at glancing toward that distant finish line, some 300 or 400 pages in the future, can produce a wee bit of anxiety. Of uncertainty. The common, cliché-ish and yet ultimately sage advice is to begin at the beginning. Although I admit the adage isn't entirely helpful. Where to begin is often a writer's state of mind at any particular moment.
But take heart. The truth is that very few writers know exactly where the beginning begins. My best advice is, for the moment, don't sweat it. Don't sit for hours, or days, petrified into inertia by worrying about precision, fretting about perfection. Just begin writing where you think your story might begin. At the moment, you're more or less groping around in the dark. And that's normal. Once you finish a draft, and perhaps know how your story ends, now you can return to Page 1 with a better understanding of the story you intend to tell. You're better acquainted with your characters, their personalities and motivations, and I suspect you'll have a much better appreciation of exactly where your story should begin.
Because, remember—at any point in time, you're allowed to change your mind. My first few pages rarely remain intact, and I'll often rewrite my opening several times before I'm satisfied. But that's what first (and subsequent) drafts are for. A writer's constantly honing one's pages, re-evaluating, reconsidering. Remember that your first few drafts will be sloppy, incomplete, and often inarticulate works in progress. A first draft's like an artist's sketch pad, full of literary doodles and unanswered questions. If you find yourself looking intently for typos or inconsistencies, purple prose or incomplete thoughts, you're doing it wrong. A typical first draft is a hot mess. It's the nature of the beast.
When & Why Outlining Can Help.
While I'm aware that some (most?) fiction writers abhor outlining — admittedly, it's not the most creative part of writing a novel — I've found that outlining can be a crucial, necessary element of story telling. Basically, you're creating a cheat-sheet for yourself; a roughly scribbled road map containing just enough info to remind you of where you're going, how you'll get there and why. But while outlining, you're also free to explore a plethora of new What if…? concepts, many of which won't work, but a few which may dramatically improve your story.
Writing a novel is like a marriage. Those first 10-20 pages are the honeymoon period. It's all fun and games, exploring new territories and considering uncharted options. But then the reality of carrying all that weight (sorry, married people) begins to take its toll. Sometimes uncertainly, self-doubt and even depression results. And then this cute-little-blonde of a new idea steps in, turns your head and there goes the marriage.
My advice? Dump the blonde (at least put her aside for a while) and persevere. Writing a novel is, and will always be, a major commitment. Stay the course.
Once you have your final chapter outlined, you'll likely find it much easier to write toward that established end-game — even if you've only written a few pages of a first draft. However, once you've plotted those last few scenes, your characters will have sufficient motivation getting there and you'll find yourself taking far fewer uncharted turns into the abyss.
Outlining a story doesn't mean you can't change your mind midway through, if something better comes along. (It occasionally does.) But, if so, take the time to update your outline and feel how this new concept plays out before writing another 20-30 pages that may go nowhere. (And don't delete your old ideas just yet.) But, typically, an outline can often save that marriage.
An Example.
Here's an (albeit somewhat verbose) example of how outlining can help: Let's say we're writing a love story that takes place in early 20th century Boston, at a time when immigrants were flooding the Atlantic seaboard states and seeking safe communities in overcrowded, impoverished, crime-infested cities. Politicians were little more than crime bosses. Young Bobby, who's second generation Irish, falls in love with Maria, who's second-generation Italian. Their families live on the edge of that teetering, cultural dividing line between the Irish and Italian communities. Such love, back in those days, often proved fatal.
Our beginning is pretty standard fare. Let's say Bobby (18) meets Maria (17) at the corner apothecary/soda shoppe down the street. (This introduction is your inciting incident). He flirts, she giggles and despite Bobby's best intention to dismiss her, he begins fall in love. And despite Maria's father's objections ('No daughter of mine's gonna be seen with some no-good, thievin' mick squatter from Windsor!') Maria's smitten with Bobby as well. They begin to sneak away to the apothecary, or else meet at a little nearby duck pond, and talk away the long, summer afternoons. At one point Maria's older brother, Vincente, catches sight of them holding hands. Vincente beats up Bobby, but that only reinforces his intention to marry Maria. Bobby's older brother, Patrick, then beats up Vincente—their mothers bicker at the corner grocery, screaming in both Italian and Gaelic. Marias father, Luigi, threatens to lock her in the basement for a month, and repeatedly threatens to whip the poor girl senseless. Bobby's father, Michael, likewise demands that his son stay away from this greannach girl—and yet Bobby and Maria aren't dissuaded. They secretly plot to run away together…maybe to California, if they can save enough pennies, nickels and dimes.
Okay, so we've maybe written 100 pages of dramatic, intense realism, building the foundation of our story, with fleshed-out characters and brooding relationships. It's time for Bobby and Maria to make their move. Come midnight, they'll sneak away to board that long awaited train to California.
But perhaps that's as far we've visualized the story line. We've reached as far as our romantic daydream has taken us. All along we've assumed that Bobby and Maria would elope and leave their families behind—but we suddenly realize that, once they've boarded the train, we're leaving most of our carefully orchestrated, dramatic roadblocks behind as well. Freeing Bobby and Maria to be themselves, and happy, will suck much of the raw emotion out of the story. Do we provide new dangers on their way to California, or keep them in Boston until we can complete a few more story arcs?
Basically….so now what?
Ah, that's the perfect time to outline any number of possible solutions. So after a number of false starts — ideas that, when outlining, are far easier easy to delete or alter than dumping 25 or 50 carefully drafted pages — maybe we find a couple of worthy concepts. So here goes:
Sample Outline. (Option A):
• Bobby's adamant about eloping with Maria. Because Bobby's big brother, Paddy, is wary of Bobby's brash stupidity, he accompanies Bobby into Boston's Little Italy to keep him safe.
• As they approach Maria's house, they find her father, Luigi, and her brother, Vinnie, waiting for them in the shadows, holding baseball bats. '
• Brashly, Bobby declares his love for Maria and vowed that he won't be deterred.
• In a rage, Vinnie takes a swing at Bobby, who ducks the blow.
• Paddy pulls a small revolver from his waste band and shoots Vinnie dead.
• Panicked, Bobby grabs Maria's hand and pulls the sobbing girl away from the fray.
• Running from the madness, neither Bobby or Maria see Luigi kill Paddy with a blow to the head.
• An Irish cop, by happenstance, sees Paddy go down, and shoots Maria's father. No! Luigi will provide far more drama as a foil if he's still alive!
• Meanwhile, Bobby and Maria find refuge in an unoccupied, dilapidated tenement home a block away. Bobby's tries to comfort Maria — but the girl's distraught about her brother's death.
• An indigent wino attacks Bobby, but Bobby knocks the old guy out with a punch. No! Keep the plot taut here. No need for non-specific violence. The scene is dramatic enough without the distraction.
• Maria tells Bobby she must return home in shame to comfort her parents and, sobbing hysterically, she tells Bobby she still loves him, but that her brother's death means they can never find happiness together. She kisses him goodbye.
…and now we've given ourselves a new set of hurdles before the two lovers can board that train and flee to happily ever after. Note that when I outline, I will often make notes to myself, and/or cross out those ideas that don't feel right and even include (in red) a brief rationale for my decision, should I wonder later why I found those scenes ineffective or unnecessary.
But what if we're not fully convinced about this new direction. Perhaps we're still looking for other possibilities. The great thing about outlining: It's quick and easy and, at this point, hardly definitive. Maybe we're still thrilled about that train ride to California, and whatever obstacles that trek may provide. So what if…?
Sample Outline. (Option B):
• Bobby's adamant about eloping with Maria. Because Bobby's big brother, Paddy, is wary of his little brother's brash stupidity, he accompanies Bobby into Boston's Little Italy to keep him safe.
• As they approach Maria's house, they find Maria's father and her brother, Vinnie, waiting for them in the shadows, holding a baseball bat. '
• Brashly, Bobby declares his love for Maria and vowed that he won't be deterred by Vinnie's threats of violence.
• In a rage, Vinnie takes a swing at Bobby, who ducks the blow.
• Paddy knocks Vinnie unconscious with an uppercut to the chin. Bobby grabs Maria's hand and the three of them hustle off to the train station.
• A moment later, Vinnie comes to. And aware of Bobby's plan to flee to California, he follows them to the station.
• Paddy gives Bobby a wad of cash and they hug. Bobby and Maria board the train and wave goodbye.
• A moment later, Vinnie shows up. Seeing Paddy watching the train depart, he pulls a small pistol from his waist band and shoots Paddy dead. In the ensuing panic, Vincente makes his getaway.
• Vinnie returns home, explains that he saw Bobby and Maria board the train to California, but was a moment too late to stop them. (Does Vinnie tell his father he killed Bobby's brother? Does he keep that a secret? Not sure yet!! Pros and cons of revealing the murder now???)
• Enraged, Luigi tells Vinnie that they're going to California on the next train and bring Maria back home. (Will two train tickets cost Luigi his last cent? Will they have to revert to robbery to fund their journey westward?) Since Vinnie's a murderer, do we want to make Luigi a full-blown antagonist, or ultimately more sympathetic to Bobby's plight? Meaning, might Luigi be redeemable? If so, probably not yet, but for the moment we're keeping that open.
And thus, with relatively little effort, we now have two paths of forward momentum to choose from. Even with three or four variations outlined, eventually one will emerge as our best approach, and once we decide the most dramatic, exciting choice—we're back on track and ready to draft another few scenes.
Oh, and one last option: If the spirit moves us, we can complete our outline — finish our story — before we begin drafting again. If we can discover a direct route from the train station to that final page, and outline the remainder of our book, we have a distinct advantage of having a complete roadmap between here and there. With a complete outline, we're pretty much assured of how to proceed to the end of our tale. We'll make far fewer wrong turns and blunders, and follow our map and that final destination: THE END.
Remember, an outline is simply a brief, short-hand list of what goes where. One need not add color or dialogue or innuendo. (We can if we like, but it's not essential at this point.) We're simply jotting down enough of our bared-bones, essential story-line to remind us of where we're going and how we're going to get there. And, if we've begun our story somewhere in the middle, we can outline backwards to our first chapters and eventually connect the dots as well. And then, when satisfied, continue outlining chronologically to the book's ending.
Do note that I don't consider outlining a Rule-worthy necessity. While I consider it a crucial writer's tool, I still believe it's a writer's choice whether to outline or not. For many writers, it's an 'only as needed' obligation, and many writers don't outline at all. S'up to you. (But keep it in mind, the next time you find yourself stuck in the middle.)
CONTINUE to Part 3: Discovering your story's core elements.
.
.

---

.
• Next post • Previous post • Index
.
.





by