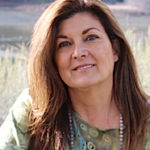 During these challenging times, I'm maintaining focus on inner work. I continue to notice that when chaos surrounds me and getting my bearings externally doesn't work (because our social maps fail), I can always establish an inner "attitudinal alignment" that enables me to center awareness deep within in my core, so that I might meet the apparent chaos from my internal place of greatest strength.
My seven core be-attitudes? They happen to align beautifully with the seven chakra centers that Eastern philosophy notes as being the power centers within the human body. Beginning at the root chakra and ending at the crown, they are: trust, openness, courage, compassion, kindness, patience, and peacefulness.
When I radiate these seven be-attitudes I find that I gain the highest degree of clarity about my surroundings as is possible under whatever circumstances have arisen. They keep ME clear. And while in that state, I am able to draw upon the aggregated wisdom of the cosmos, the inexhaustible power of love, and the innate gracefulness of the entire material world to support whatever needs to be accomplished.
All I need to do is be willing to go within and realign myself to these base attitudes…right now. And since it's always now, it's on me to be always willing.
That's my work. ❤️
— Eileen Workman
Author of Raindrops of Love For a Perfect World
and Sacred Economics (The Currency of Life)
.





by