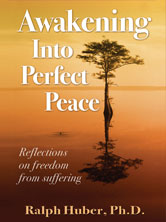 Phone-In to Beat Anxiety with Popular Communications Coach/Author Dr. Ralph Huber – 4 Wed TeleCourse Feb 12 – Mar 5
Muse Harbor Publishing's "Awakening Into Perfect Peace" author teaches an easy, proven three-step process to achieving mental peace in his Hummingbird Living School's TeleCourse, over four Wednesdays, February 12th – March 5th. His simple ROAR approach to acceptance and letting go is gaining national popularity as a healer of anxiety, stress and low self-esteem.
Santa Fe, New Mexico (PRWEB) February 06, 2014
On four Wednesdays from February 12 – March 5, 2014, Hummingbird Living School in Santa Fe, New Mexico will host a TeleCourse with Dr. Ralph Huber,popular Communications Expert/Coach and Author of "Awakening Into Perfect Peace: Reflections on Freedom from Suffering." Space is limited and previous courses have sold-out, so listeners are encouraged to register soon by clicking on hummingbirdlivingschool.org.
Dr. Huber will teach ways to free oneself of life's personal drama, confusion and stress while aligning with Spirit to boost creative capacity.
The topic is "Co-Creating with Spirit: Keeping in Resonance with our True Nature of Infinite Wisdom and Oneness." Dr. Huber will answer:
How your should-thoughts stand in the way of keeping in resonance with Spirit
The role humility plays in aligning your thoughts and actions with Spirit
How heart-felt expressions of appreciation strengthen your ability to keep open to Spirit's guidance.
Ralph Huber is one of the great minds and hearts of our times. 'Awakening Into Perfect Peace' serves as a fertile ground for self-actualization.
Amanda Creighton
Executive Producer,
Within Reach
Dr. Huber asks, "Do you want to experience a life filled with confusion and drama by resisting life's unfoldment, or do you want to experience a life of clarity and peace that comes from welcoming all of life – as it is?"
Dr. Huber believes that inner peace is achieved through the path of least resistance, which is often the simplest path to take. "Most of life's conflict is self-inflicted," says Huber.
Two of Huber's students from a recent workshop said, "I had many significant takeaways including that pain exists but suffering is optional" and "For me, this class gets at the heart of how to live life from peace rather than from anxiety." JB and MH from Santa Fe, New Mexico.
"Awakening" recently launched on 2013's International Day of Peace from Muse Harbor Publishing. It can be found on Amazon.com and museharbor.com.
An engaging, inspirational speaker with practical "inner peace" tools that benefit any reader, listener or viewer, Dr. Huber can be reached for further interviews, including Radio, TV, Print, Online Blogs and event speaking engagements, by contacting Margaux(at)museharbor(dot)com.
Ralph Huber's professional background includes educator, corporate trainer and vice-president of a New York based management consulting firm that offered services to major communication and retail industries. He is currently a member of Hummingbird Community in northern New Mexico and serves as board president for the Unity Church in Santa Fe. Dr. Huber holds a Ph.D. from New York University's Department of Communication Arts and Sciences. He has an affinity for Advaita, Zen and Christian Mysticism.
Friend Dr. Huber on Facebook and for information on Huber's personal coaching and seminars, visit awakeningintoperfectpeace.com.
Muse Harbor Publishing, based in Sea Ranch, CA, was founded in 2011 as an organization of "writers helping writers, in service to our readers."
Hummingbird Community provides and hosts educational programs, conferences and retreat experiences that support conscious evolution, loving relationships, regenerative living, new economics, health and well-being.





by