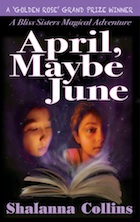 Popular Author Shalanna Collins Debuts "April, Maybe June" Novel as Book One in the Bliss Sisters Magical Adventures Series from Muse Harbor Publishing
Dallas, Texas (PRWEB) June 09, 2014
On Saturday, June 14, 2014, Muse Harbor Publishing's popular author of six published novels, Shalanna Collins, debuts her new Young Adult (YA) mystery novel with a magical twist, April, Maybe June, at the Lucky Dog Books launch event in Dallas, TX from 11:00 – 1:00 p.m. Lucky Dog Books is located at 10801 Garland Road (just south of 635, between Easton Road and Jupiter). Collins will sign books and discuss her path to being a professional YA author. Muse Harbor will provide food and soft drinks at no charge to the public.
Collins' clever YA novel April, Maybe June finds homeschooled siblings April and June Bliss inadvertently sucked into their older cousin Arlene's troubled life when the street-savvy 17-year-old disappears, then sends for their help via an inscrutable grimoire and a mesmerizing silver ring. When life turns supernaturally spooky, April and June must pull together to survive.
April, Maybe June is available on Amazon.com, BarnesAndNoble.com, iTunes and Museharbor.com in paperback and e-book versions. Muse Harbor Publishing will be offering a 15% discount. Click on museharbor.com and use coupon code: LUCKYDOG.
Collins, who also writes as Denise Weeks, has had her fiction published in several genres, including mystery, fantasy, chick lit, and romantic suspense. The author has a strong web and social media platform which can be seen on her blogs on writing for teens and other genres at shalanna.livejournal.com and shalannacollins.blogspot.com. Fans can friend her on facebook.com at Shalanna Collins Books and follow her on twitter at @shalannacollins.
Collins teaches how to be an author in today's digital world. The author is available for radio, TV, online interviews and speaking engagements at writers conferences. If you'd like to book Shalanna Collins for your show, blog or event, please contact margaux (at) museharbor (dot) com.
For more information on the book signing at Lucky Dog Books, please visit luckydogbooks.com.
Based in Santa Barbara, CA, Muse Harbor Publishing was founded in 2011 as "writers helping writers, in service to our readers."





by