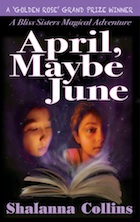 The East Texas Writers Guild awarded April, Maybe June Third Place in the Young Adult: Book Cover Award category! Congratulations to our own Dave Workman, and to Shalanna Collins.
"The East Texas Writers Guild is proud to announce the top three winners in the Blue Ribbon Book Cover Contest for Young Adult novels.
Linda Pirtle, president of ETWG, pointed out that entries were submitted from across the United States from California to New Jersey, as well as from Great Britain, Australia, British Columbia and Ontario, Canada. It was indeed an international contest."
Entries were judged by a team of artists and designers in the Dallas area."
You can buy a copy of April, Maybe June right here.






by